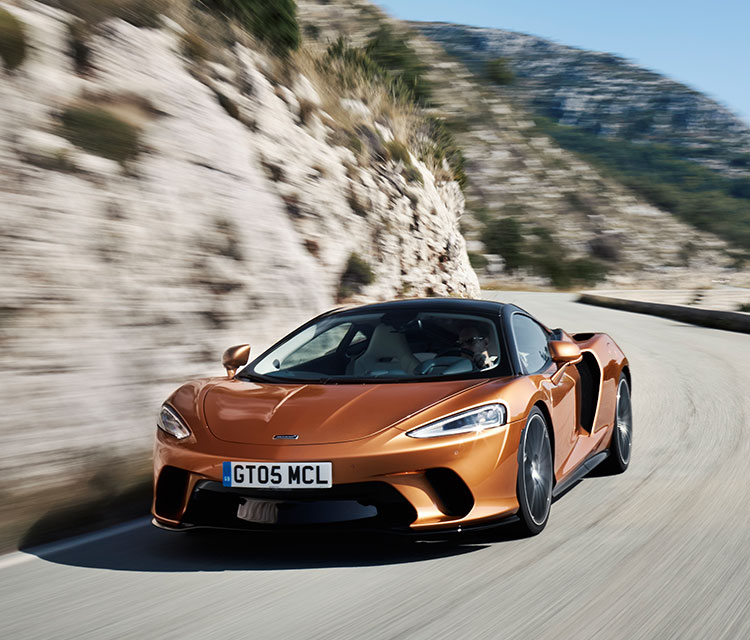 The 2020 McLaren GT Receives High Remarks
Grand Touring Will Never Be The Same Again
The new superlight GT reimagines the breed. And the results are extraordinary. Strikingly beautiful. Engineered for continent-crossing capability. With an engaging yet comfortable ride. And generous luggage space…
In the new GT, these key ingredients are reinvented and applied in new, innovative ways. Then combined with power and performance that is undiluted McLaren. To create the lightest, quickest accelerating car in its class. A Grand Tourer has never been so thrilling. So refined. So engaging. The new GT is living proof that craftsmanship evolves. It embraces innovation, new materials and technology.
What remains is sheer quality. Meticulous attention to detail. Textures and finishes that inspire you. A full length powered and glazed rear tailgate. An electrochromic panoramic roof that can provide five different levels of shade at the touch of a button. And hidden ambient lighting that adds stylish detail to the cabin. The new GT is packed with leaps forward. To take touring to whole new places.
Suddenly, those Grand Tourer conventions look very old.
A New Kind of Grand Touring
It's a fine balance. Between power and weight. The ratio has to be right. Often in the Grand Tourer class, the scales tip in the wrong direction. Big front-engine cars are the norm. And they're normally heavy… adding even more weight every time they up the power.
The new GT resets the scales thanks to hundreds of kilograms of honed, weight saving design. At 1530kg, it is perfectly balanced, race-bred mid-engine layout. The car's new V8 delivers immense power and torque, a thrilling exhaust note and class-leading fuel efficiency. With a low centre of gravity for exceptional agility and a stable ride. Power and weight, in perfect balance.
Stunning to look at. Pleasing to the touch. And chosen for both durability, and capability. Every material inside the new GT is defined by this approach.


Next Generation Refinement
Innovation, On Tour.
The new GT is influenced by the classic proportions of a Grand Tourer. But our relentless dedication to innovation touches every element. Bucking tradition, it's mid-engined. And built around a lightweight carbon fibre chassis. So unlike conventional Grand Tourers, it isn't heavy and cumbersome. In fact, it's hundreds of kilograms lighter than most. Which means it goes and handles like a true McLaren. The innovations continue inside the cockpit. Where you'll find our latest McLaren Infotainment System.
Purity of Purpose
As a rule, Grand Tourers are comfortable. Insulating. Which often means they're also heavy and unresponsive. Not to mention blunt when it comes to handling and driver engagement. The new GT makes that rule obsolete. Blisteringly quick and responsive, it injects adrenalin and racing DNA into the class. And it does all of this while delivering a supremely refined ride.
The innovative engineering that makes the new GT a true McLaren also makes it a Grand Tourer like no other. Pioneering refinements like our Proactive Damping Control suspension. Just like you, this advanced system constantly analyses road conditions to adapt – predictively. And learns from every journey you make. The result? Ride comfort and handling precision that's perfectly optimised. Every moment. On every journey. For the first time in a Grand Tourer, you can have it all.
Cutting-Edge Craftsmnaship
Exquisite bespoke stitching patterns and fine leather flow across the cockpit. Seats feature double piping and intricate perforation. Aluminium switchgear is precision machined and tactile. The luggage bay can be expertly trimmed in ultimate quality leather or innovative SuperFabric®. The padding beneath the central touchscreen and armrests adds to the feel of obsessive crafted quality. Beneath your feet there is soft loop pile carpeting.
Always Choose The Finest Ingrediants
Rich Jet Black Nappa Leather headlining. Satin silver chrome finishing around the infotainment screen and air vents. Switchgear made from solid knurled aluminium. Leather from the very best hand-finished hides. Depending on your chosen interior theme, you can also enjoy the innovative strength of SuperFabric®. This innovative material is infused with a layer of tiny armoured guard plates – offering enhanced resistance to scratches, stains and water. Which makes it perfect for protecting your luggage bay. And, because we understand that individuality is key, the opportunity for personalisation across your car is huge.