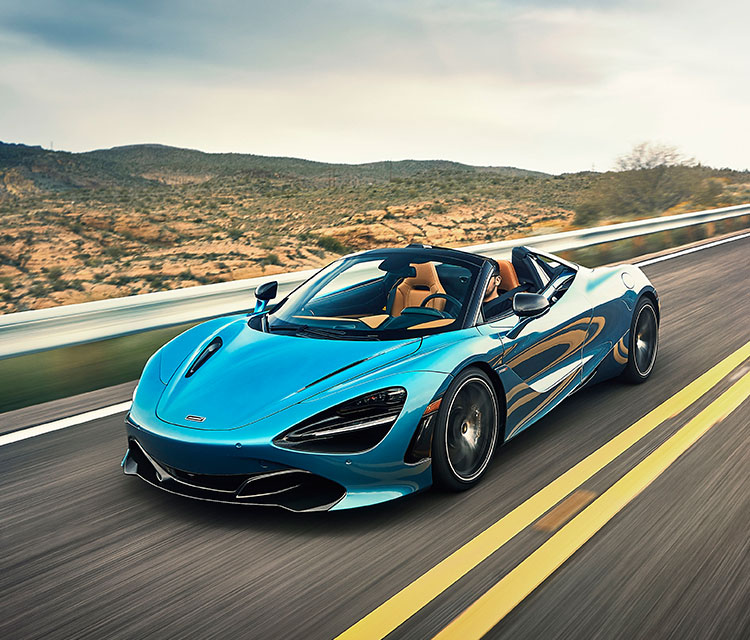 Drive It Your Way
The 720S Spider is a perfect example of this. It's a car that delivers the best of both worlds… a convertible supercar that's every bit as thrilling as the Coupe. That means the same nerve-tingling rush, now available with the roof down.
This is a car for those who see more… who look beyond convention and seek out the extraordinary. The 720S Spider is a full-throttle supercar with a retractable roof – all in one beautifully honed package.
They say beauty is in the eye of the beholder. At McLaren, we believe it's the elegance of an efficient design. That's why nothing about the 720S Spider is there for any reason other than out-and-out performance. The dihedral doors may turn heads. But part of their function is to cool the high temperature radiator through air channels in the innovative double skin (and help you access tighter parking spaces). While the new glazed floating cantrails that support the roof also improve powertrain cooling and increase downforce, without increasing drag.
Let The Light In
It's a design mantra that runs through everything we do at McLaren. And it means that each element we design has a distinct and defined purpose. All that you see on the 720S Spider is honed for performance. Every line, scoop and curve has been crafted for aerodynamic excellence. No exceptions. No compromise. And yet the result is a car that has looks every bit as jaw-dropping as its performance.
The 720S Spider is built on a carbon fibre structure that's incredibly light. And incredibly strong. This means we didn't need to add any additional strengthening to accommodate the Retractable Hard Top (RHT). So there's barely any additional weight compared to the 720S Coupe. This creates a drive that's every bit as thrillingly uncompromising. The RHT retracts at the press of a button and fully folds in under 11 seconds. It's near enough silent. And so well designed you can operate it while travelling at 50km/h. Plus, a unique glazed option with electrochromic glass means you can still see the sky in all its glory – even with the roof up.
The organic-looking form of the 720S Spider is no coincidence. It looks this way because of painstaking aerodynamic optimisation. It's as if it's been sculpted by the air itself. McLaren engineers and designers work in a symbiotic way… drawing on each other's knowledge and experience.


Clear Distinction
In The Driving Seat
It's a balancing act. Deliver enough information to the driver… without distracting from the road ahead. Fortunately, the 720S Spider delivers an ideal driver experience. So the high-resolution Central Infotainment Screen puts just the right level of information right where it's needed. What's more, the buttons to control the roof are placed conveniently between driver and passenger – so either can operate them. Add to all this the car's different driver modes – Comfort, Sport and Track. They're selected with the touch of a button, transforming the performance of the 720S Spider… and completing the picture of a car that's entirely focused on you.
Feeling Good
Comfort. It's not a word you usually come across with a supercar. But the 720S Spider is no ordinary supercar. And the interior is testament to this. Only the finest-grade leather is used in the upholstery – which is a cut above when it comes to supercars. The switchgear is delicately crafted, with almost every piece made from machined aluminium. This makes it light. But also highly tactile. Then there's our signature material… the 720S Spider's carbon fibre trim is of the finest quality you'll find in any supercar. Or, for that matter, any car full stop. It all adds up to a comfortable interior that defies expectations… coupled with performance that's as refined – or as ferocious – as you want.
The Beating Heart
Maximised power. Sharpened response. And increased efficiency. The McLaren 4.0 Litre twin-turbocharged V8 engine delivers 720PS (hence the car's name) and 770 Nm of torque. If you're not into details, let's just say that's immense power. Or if you love the details, you might be interested to take a peek in the exposed engine bay – which shows off the car's powerhouse through dramatic illumination. After all, when an engine's this incredible, it's a shame to hide it.
Take Things Up A Gear
Silky smooth. Or sharp as a razor. The seven-speed dual-clutch transmission (DCT) is just as adaptable as every other element of the 720S Spider – offering different characteristics as you navigate each driving mode. There's added drama too. In Sport mode, the gearbox momentarily cuts the ignition spark during a shift – improving gear change times. While in Track mode, our Inertia Push technology comes in to play. This employs built-up kinetic energy to deliver an impulse of torque as the next forward gear is engaged. Ensuring uninterrupted acceleration. So the choice is yours. More focused responses for when you're pushing performance on a hot lap. Or a more refined feel when you're simply out for a top-down cruise.