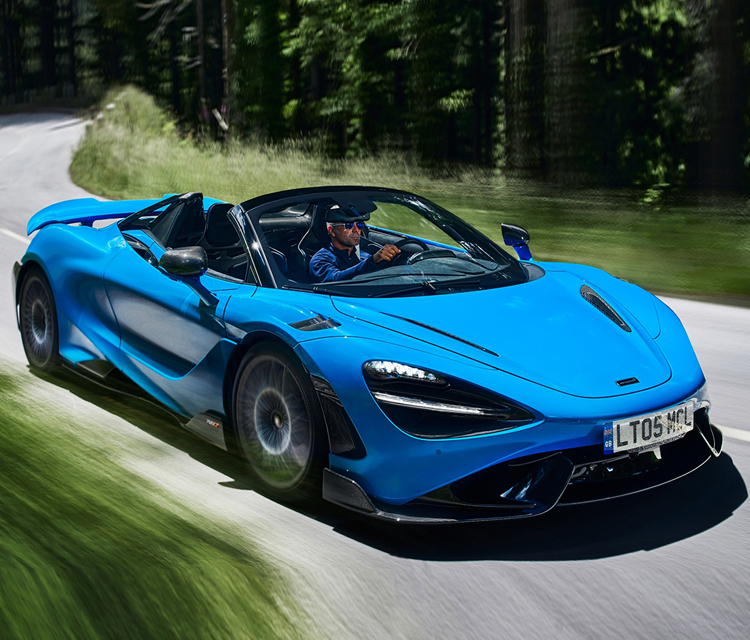 UNCOMPROMISING VISION.
Engineered without fear, driven by the fearless. At McLaren, we embrace the challenge and relish the unknown. Longtail models personify this spirit. Our most extreme, driver focused, pure performance cars. With a proud lineage.
The new 765LT Spider is the latest in this exclusive line. Only 765 will ever be made.
Delivering maximum engagement. Untamed performance. Scalpel-sharp handling. With 765PS and 800Nm of torque. It takes just 11 seconds to open and stow the ultra-lightweight single piece electric Retractable Hard Top. So now there's nothing between you and the elements.
And the howl from the quad-exit titanium exhaust.
FINELY HONED. RADICAL. AGGRESSIVE.
The bespoke carbon fibre body is carved and sculpted to increase downforce. And improve cooling. Its profile is elongated and minimal. Lowered front suspension and a wider front track add purposeful aggression. Dramatic side air intakes inspired by the legendary 675LT Spider. All-new super-lightweight 10-spoke alloy wheels and carbon fibre active rear wing are McLaren design at its functionally beautiful best. The essence of LT.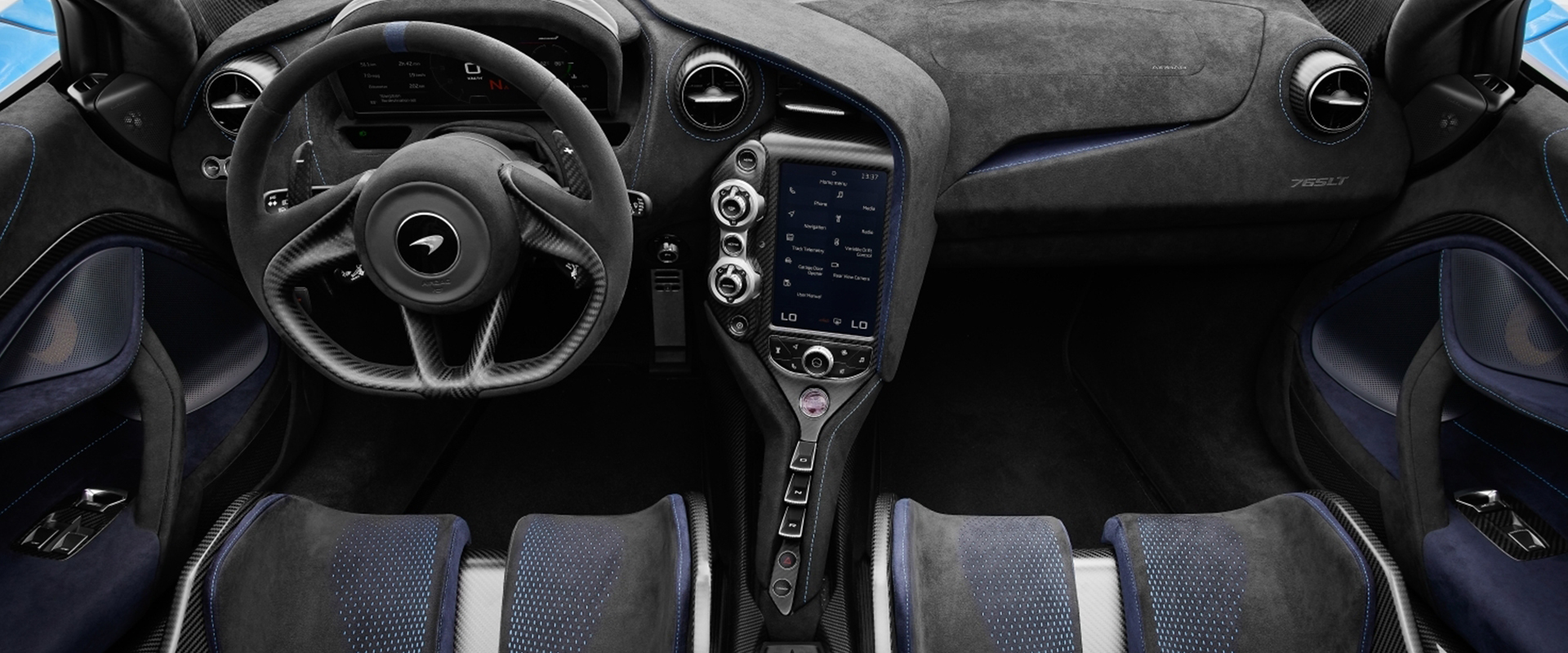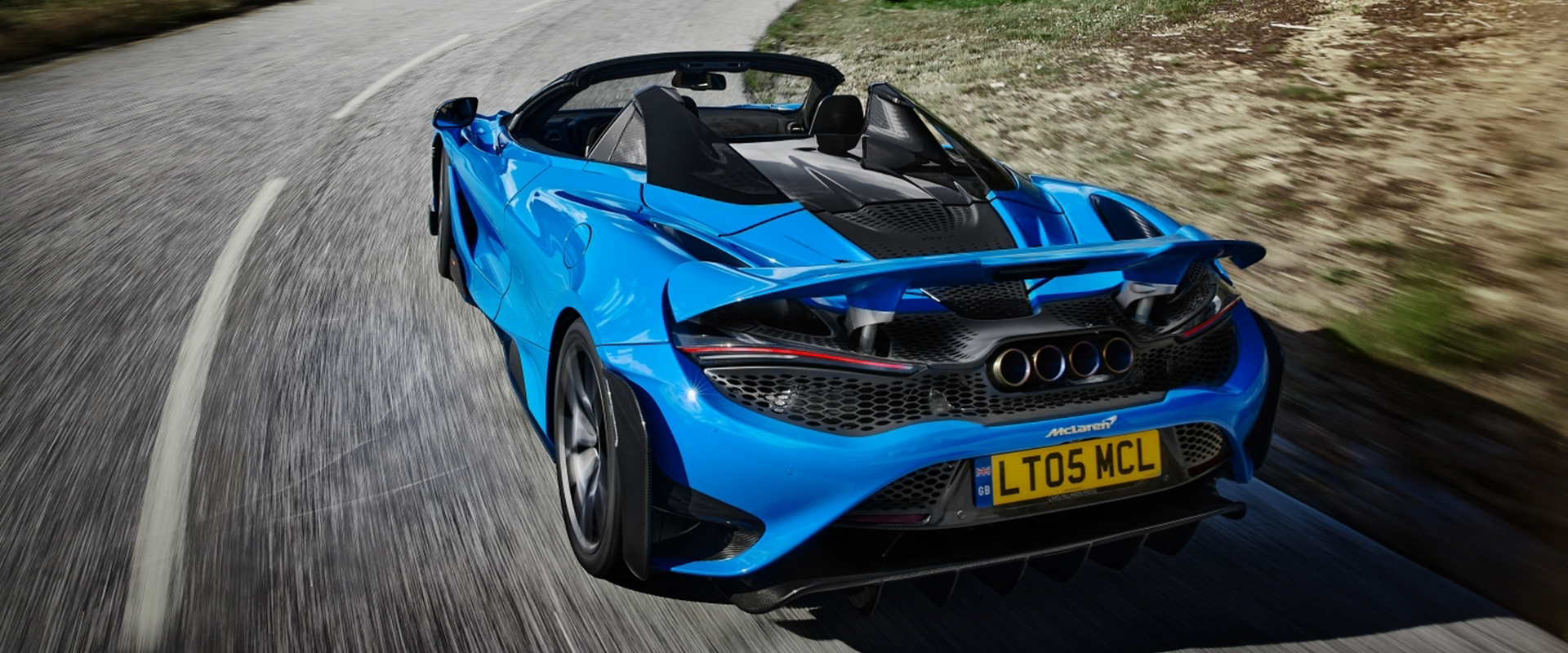 THE 765LT SPIDER'S BEATING HEART.
PURITY OF FORM
The 765LT Spider is unmistakable – its form dictated by our obsession. To go faster. To be better. Ignoring convention and questioning everything. This no-compromise ethos shapes every Longtail. It's where the 765LT Spider's purposeful aggression and unique character originate. The elongated profile and lowered stance. The innovative front splitter and dramatic side air intakes. A McLaren Senna-inspired carbon fibre front licence plate plinth. The incredible lightweight single piece Retractable Hard Top and LT-specific quad-exit titanium exhaust. Inside, the design purity continues. With track-ready, radically shaped racing seats inspired by those found in the incredible McLaren P1™. Everywhere, you see and touch lightweight Alcantara®. The bespoke, lightweight central tunnel features a panel thickness of just 0.8mm. Pared back. Perfected for extreme performance. The 765LT Spider is designed for life beyond the limits.
TO THE LIMITS
Every last detail of the 765LT Spider's powertrain is special. Reworked. The ultimate solution. Behind the split-second responsiveness, there is a flat-plane crankshaft and race-inspired dry sump lubrication. Ultra-low inertia twin-scroll turbochargers and electronically controlled wastegates all but banish lag. The fuel system has more injectors than the 720S Spider. For even more precise fuel control. So you get more power. More efficient combustion. And lower emissions, too. Several key elements are taken straight from the savage McLaren Senna. Such as lightweight forged aluminium pistons, which have now been improved. And the twin high-flow fuel pump system – tailor made for extreme performance engines. Engine height is radically reduced, keeping the centre of gravity ultra-low. Handling is instantly enhanced. It's a typical Longtail leap forward.
AERO, AT THE LEADING EDGE
The bespoke carbon fibre body panels, rear bodywork mesh and glazing look breathtaking. Their functional performance is equally impressive. They comprise 20kg of the overall 80kg weight saving. And deliver 25% more downforce. The new Longtail active rear wing is 20% larger than the 720S Spider's. With a revised profile to maximise downforce in corners, and reduce stopping distances. Our incredible engineers also created the bespoke carbon fibre front floor, which increases front downforce and maintains it during high-speed braking. Like the 765LT Coupe, the Spider has an unmistakable LT front splitter, side skirts, and enlarged lower side air intakes – all dedicated to managing air flow and cooling. Combined with the lowered suspension and widened front track, the advanced aerodynamics deliver an intensity of driver engagement that has become a Longtail trademark. Once experienced, never forgotten.
EXHAUSTIVE, OBSESSIVE DEVELOPMENT
Engine development on the 765LT Spider has been rigorous. Every LT must be ready to deliver in the most demanding circumstances – on track. But they must also be ready for the daily drive. So the pursuit of extreme power and torque is matched by dedication to durability and inbuilt quality. Never forget that the Longtail legend was born in the heat of the ultimate endurance test – at the 24 Hours of Le Mans. Where the first cars to bear the name triumphed. Deep in the heart of the 765LT Spider engine is a three-layer head gasket from the McLaren Senna, a revised oil pump and new shaft. Camshaft followers feature a diamond-like coating, first seen on the McLaren P1™. It reduces both friction and wear. Countless hours of intense dyno work and electronic control calibration have created a staggering engine.