What Is the My Bentley App?
The My Bentley App is an official mobile application from the luxury automotive brand that allows Bentley owners to connect their smartphone to their vehicle and enjoy a suite of services designed to make life easier.
Gain instant access to exclusive content, Bentley offers, news and more, and sync your smartphone to the Bentley Navigation system to get to your all destinations without a hitch. All in all, this advanced mobile application will deliver the safe, smarter and more sophisticated driving experience you desire.
Download the app to get started or get personalized My Bentley app support by visiting our luxury car dealership near Elk Grove today.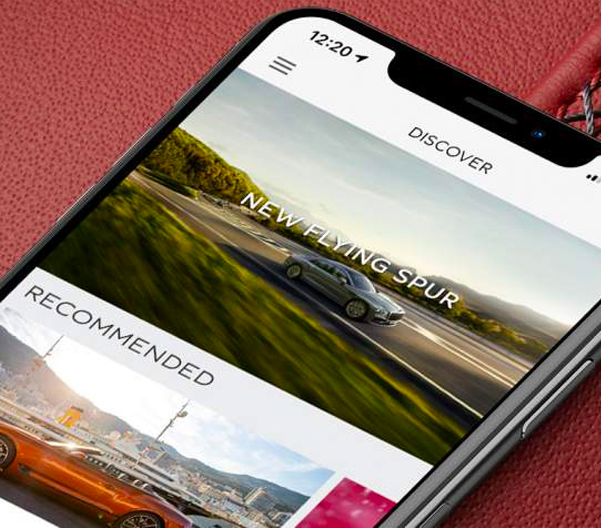 My Bentley App Services
When you buy a new Bentley in Walnut Creek equipped with My Bentley app services, you'll enjoy access to a wide array of comfort perks, technology features and emergency services.
In-Car Services
Bentley Navigation system with real-time traffic updates.
Set your destination via contacts, calendar and pictures.
Online search powered by Google.
Napster music service.
net streaming service.
News & weather.
And more.
Emergency Services
As a thank you for your Bentley Bentayga or Flying Spur purchase and joining the Bentley Motors family, we want you to enjoy the following My Bentley app remote and emergency services:
Find My Car: Saves the last parked location of your vehicle and uses your smartphone's mapping system to guide you back to it.
My Car Status: View updates about your vehicle, including the status of your locks, lights, fuel range and mileage.
Lock My Car: Lock and unlock your vehicle from anywhere. You can also see if any windows or doors have been left open.
Perimeter Alert: Allows you to define a geographical boundary for your vehicle, notifying you if the vehicle leaves this area.
Speed Alert: Remotely set a speed threshold for your vehicle. If it exceeds this speed, you will receive a My Bentley app push notification and alert. You can also implement a Curfew Alert by setting a speed limit of 0 mph if you desire.
Valet Alert: Combines the benefits of Speed and Perimeter Alert into one easy-to-use function.
Bentley Roadside Assistance: In the event of a breakdown, reach out directly to Bentley Roadside Assistance to arrange the necessary recovery service.
Stolen Vehicle Finder: In the event of theft, provides you an opportunity to contact the Bentley Stolen Vehicle Tracking Call Center to place a GPS tracking request. A representative from the tracking call center will work with local law enforcement to locate and recover your vehicle.
How Do I Set Up My Bentley App?
Contact The Luxury Collection Walnut Creek to speak with our team about setting up your My Bentley account or follow these instructions:
Register Account
Download the My Bentley app on your smartphone.
Sign up and complete the steps to register.
You'll receive an email containing a link to the My Bentley app.
Click the link and begin setup.
Activate Account
Add your vehicle, enter the VIN and select Bentley Walnut Creek as your preferred retailer.
You'll receive email confirmation that your account is being processed (up to 48 hours to process).
After receiving approval, go to the app and create a 4-digit PIN for an extra layer of security.
Activate In-Car Services & Remote Services
Once you're ready to take advantage of your vehicle's in-ride technology services, do so by accessing the 8-digit pairing code from the My Bentley app dashboard. Enter the pairing code into the infotainment system to connect.
For access to Bentley remote services, begin by scratching the label on the plastic tag that's attached to your key fob; this will reveal a 10-character vehicle code. From there, go to your options icon and activate remote services. Once you're able to move on to the next step, set the primary user and enter the username along with the 10-digital character code to activate.
Enjoy new levels of access and connectivity while enhancing every aspect of the Bentley ownership experience by connecting to the My Bentley app. Custom order a Bentley nearby at our Greater San Francisco Bentley dealership to enjoy a world of luxuries through the My Bentley app.
1 You must register for a My Bentley account to use the My Bentley Connected Services. The availability of services will vary, depending on the model and equipment of your Bentley. My Bentley Connected Services require vehicle or handset cellular connectivity and availability of vehicle GPS signal. Standard text and data rates apply. Always pay careful attention to the road and do not drive while distracted. My Bentley includes services that may collect location information. Limitations apply. Some of the functions are dependent on the integration of third-party providers and may not be available at any time, at the same quality and be available in every country. Additional licenses or accounts may be required to access all functions of the application; music services. Continued use of GPS running in the background can dramatically decrease battery life.