An All-New Era
With Artura, we started with a clean sheet. The McLaren Carbon Fibre Lightweight Architecture (MCLA) at its core is all-new. As is the High-Performance Hybrid powertrain. And so much more.
Our relentless pursuit of lightness reaches another level. Aerodynamic efficiency is more advanced than ever. Helping to shape a minimal, beautiful new design.
From the rear suspension to the advanced E-differential, every new element contributes to a uniquely intense driving experience.
Ultra-light engineering. Blistering electrified power. Sublime agility and engagement. McLaren to the core. For the next generation.
The Innovation
Relentless innovation is in our DNA. It shapes Artura from the ground up. To redefine the supercar, every core element has been fearlessly rethought.
This pioneering, technical innovation has enabled incredible performance. And new heights of handling precision. Balanced with exquisite attention to detail, driver focused technology and the ability to travel in electric-only urban mode.
Low and lean. Minimal and powerful. Artura is a brand new interpretation of our design language.
Yet from managing airflow and heat, to achieving an ultra-low centre of gravity, and even enabling the perfect driving position – every curve exists for a reason.
The seamless, sculpted feel is made possible by cutting edge carbon fibre expertise and advanced techniques such as Superforming. Beautiful functionality, that functions beautifully.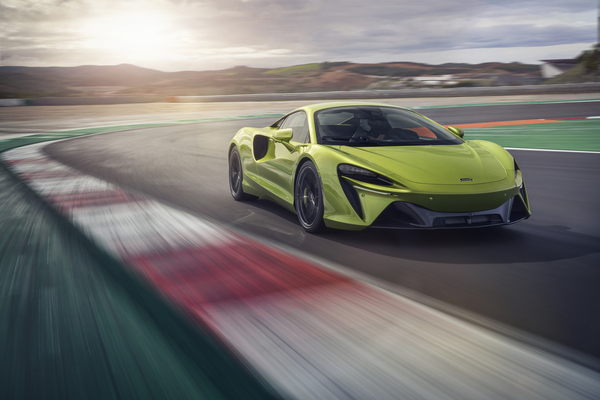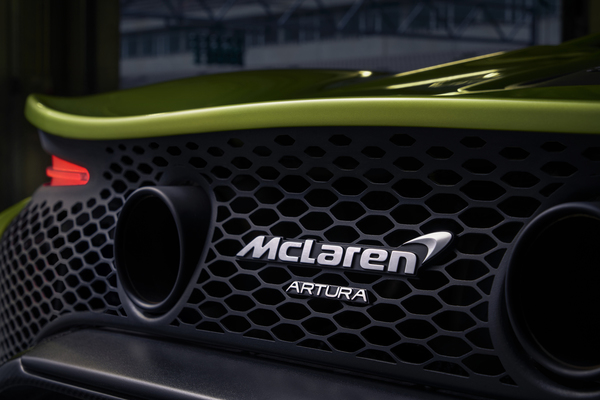 Facts and Figures
Specs
An all-new twin turbocharged V6 petrol engine generates 585PS. Throttle response is twice as sharp. And class-leading. Plus, with the 95PS E-Motor, you enjoy massive instant torque for stunning acceleration. Totalling 680PS of seamless performance.
205 MPH Top Speed
531 lb-tf Torque
671 IBHP