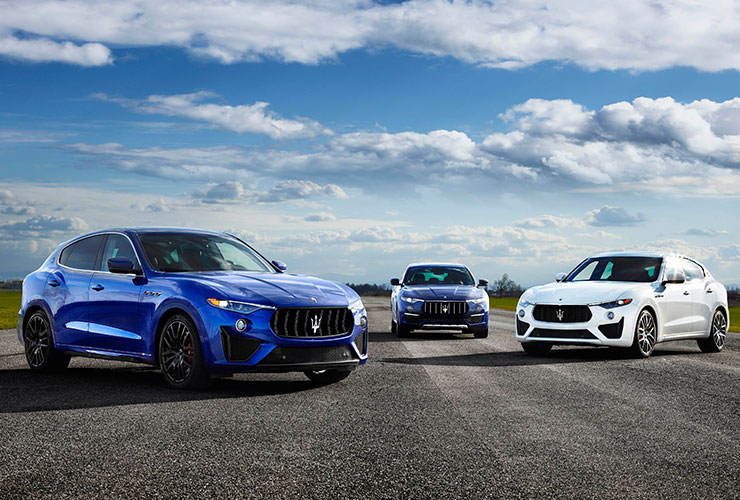 A Force of Nature
Levante is a wind that blows across the Mediterranean, transforming from benign calm to gale force in an instant. The Maserati SUV that bears its name assures such mighty power always remains under complete control. With the stability of Maserati Q4 intelligent all-wheel drive, the Levante maintains its refined composure even when the going gets tough.
• Powerful V6 and V8 engines built at the Ferrari factory in Maranello, Italy
• Up to 590 hp and 0-60 mph in 3.7 seconds1 with Levante Trofeo V8
• Maserati Q4 intelligent all-wheel drive stays composed over all terrain
• Maserati Skyhook performance suspension with electronic damping control for sport handling
• 5-way active air suspension offers maximum off-road capability
• Luxurious interiors with leather or class-exclusive Ermenegildo Zegna silk upholstery
Brilliant Details, Remarkable Craftsmanship
In every aspect of its design, the Levante is authentically Maserati—from its powerful, dynamic style to its purity of purpose, down to the smallest detail. The GT Sport Package—available on all base trims of Ghibli, Levante and Quattroporte—complements the elegant style and exclusive character of Maserati, with a more aggressive appearance that is immediately recognizable and sure to make an impression. Created for drivers who seek to express their dynamic personality, the package features exterior and interior enhancements designed to stand apart. Each package includes the bold and unmistakable GranSport front and rear fascia, unique wheels, a choice of black, red or blue brake calipers, and dedicated interior trim.


Model Overview
Technology
A cutting-edge infotainment package for the 2019 Levante puts the focus on intuitive engagement, real-world assistance and adaptable enjoyment.
Design
When it comes to design language, the Levante speaks fluent Maserati. From every angle, its imposing presence reflects a heritage of uncompromising Italian style in the finest grand-touring tradition.
Safety
Peace of mind is the ultimate luxury. An available Driver Assistance Package equips the Levante with an impressive range of Advanced Driving Assistance Systems that exemplify innovation in safety.
Performance
Powered by a 3.0-liter twin-turbo V6 or mighty 3.8-liter twin-turbo V8 engine, the Levante delivers scintillating performance with:
Q4 intelligent all-wheel drive
Drive Modes: Normal, Sport, Off Road and I.C.E. (Increased Control & Efficiency)
Trofeo features an exclusive Corsa Mode with Launch Control for dynamic engine response and acceleration
Craftsmanship
Maserati artisans lavish expertise and skill finishing the luxurious interior of every Levante. The signature of Italian craftsmanship is evident everywhere you look, down to the smallest detail.
Convenience
A variety of comfort features make owning a Maserati Levante even more rewarding. Standard or optional appointments include:
Standard remote start10
Hands-free power trunk with kick sensor
4-zone climate control
Dual-Pane Panoramic Sunroof
Heated leather sport steering wheel