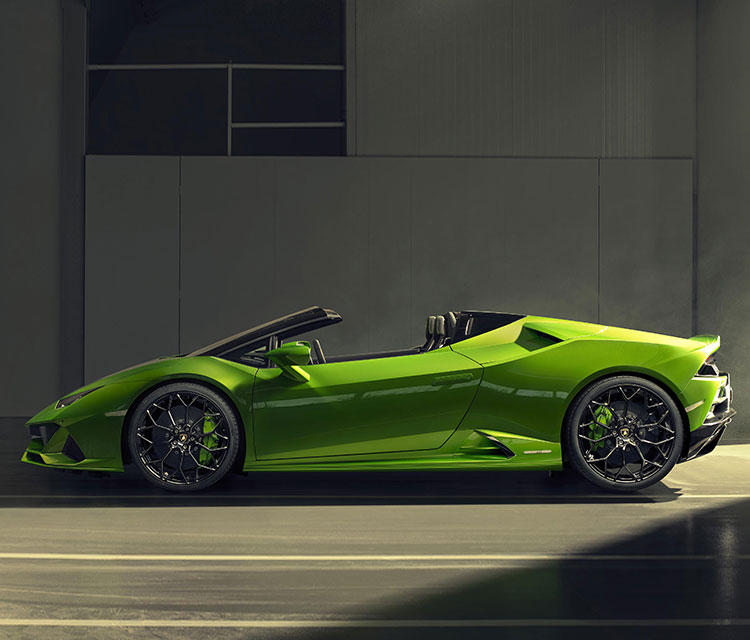 Overview
The Huracán EVO RWD Spyder is dedicated to those who believe in the pure pleasure and excitement of driving, an experience heightened by the adrenaline that comes from open-top performance. Discovering new roads with the wind in your hair, heart racing with the sound of the engine, gives you an unparalleled feeling of freedom as you accelerate toward new emotions. The magic unfolds as you "return to rear-wheel drive" and immerse yourself in the tactile sensations and the mechanical purity of a Lamborghini.
Exterior & Interior
As a unique expression of Lamborghini Design DNA, the Huracán EVO RWD Spyder reflects the purest creative vision through perfection of form, gratifying the emotions from every angle. The RWD version of the EVO Spyder clearly differs from its 4WD counterpart with its shark-like nose and new, sharper lines in the rear diffusor. In contrast to the Y theme employed in the design of the Huracán EVO 4WD, Lamborghini has adopted a wider, and very sharp, air intake for the RWD model. The sophisticated interior of the Huracán EVO RWD Spyder is a welcoming cabin that creates a direct connection with its driver. Here, you interact with your super sports car in the most direct and personal way, inspired by the exhilarating sounds that come with 610 CV immediately to the cabin's rear.


Every Day Amplied
Feel The Engine
Listen to the unmistakable 610 CV of the naturally aspirated V10 engine, and let yourself be carried away by a car designed with a top speed of 201 mph (324 km/h).
Engine
The distinctive, naturally aspirated V10 engine derived from the Huracán EVO—the top-performance V10 evolution—maintains that engine's same fundamental technological characteristics
Aerodynamics
The design of the EVO RWD Spyder was carefully engineered to improve aerodynamics.
Suspension
The architecture of the Huracán EVO RWD Spyder suspension forms overlapping quadrilaterals that guarantee a perfect balance between the vehicle's nimbleness and its sports performance.