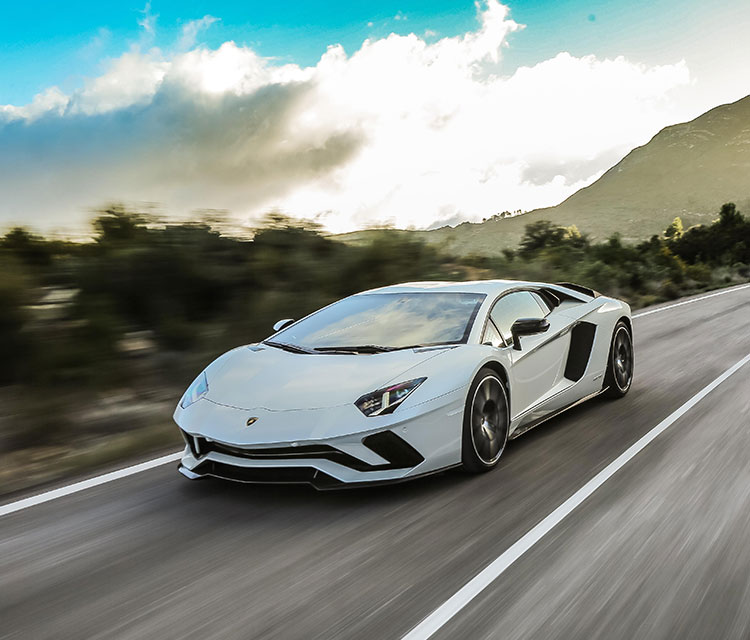 Overview
Following the Miura, Islero, Countach and Urraco, today's most iconic Lamborghini reflects the heritage of the historic S models into the Aventador S. The exclusive design and a V12 engine that develops an extraordinary 740 hp combine with the most sophisticated technology available, LDVA (Lamborghini Dinamica Veicolo Attiva, Lamborghini Active Vehicle Dynamics).
Exterior & Interior
The Aventador S expresses unmistakable Lamborghini DNA, adding even more dynamism, refinement and aggressiveness through its finely honed features. The hexagonal design of the new exhaust pipes evoke the power of the space shuttle; the front end is shaped to resemble a shark, conveying the same strength and elegance in dominating its own environment: the road. Each and every surface of the Aventador S is designed for maximum power, taking performance to previously unheard-of levels. The Aventador S is a luxurious super sports car with cutting-edge technology. The interior finishes feature materials of the highest quality and present an infinite variety of possibilities. The elegant design combines with the most advanced features, such as an instrument panel that features an interactive liquid-crystal TFT display with redesigned graphics, and a customizable LED lighting system.


Dare Your Ego
Feel The Engine
Listen to the iconic naturally aspirated V12 engine, a throbbing 740 CV heart that unleashes maximum power with a breathtaking soundtrack, reaching speeds of more than 217 mph (350 km/h).
Engine
The mid-mount 6.5 liter V-12, generating 740 CV at 8,400 rpm, offers remarkable pick-up at high engine speeds and an incredibly fast response.
Driving Dynamics
In any driving condition you might find yourself in, the new Aventador S gives you full control thanks to the driving mode selector, which provides optimal regulation of the engine, transmission, drive, steering, suspensions, and stability control based on the mode selected between STRADA, SPORT, and CORSA.
4-Wheel Steering System
The Aventador S offers a unique combination of the active steering system (Lamborghini Dynamic Steering) and the rear-steering system (Lamborghini Rear-wheel Steering), ensuring top-of-the-line dynamic performance.