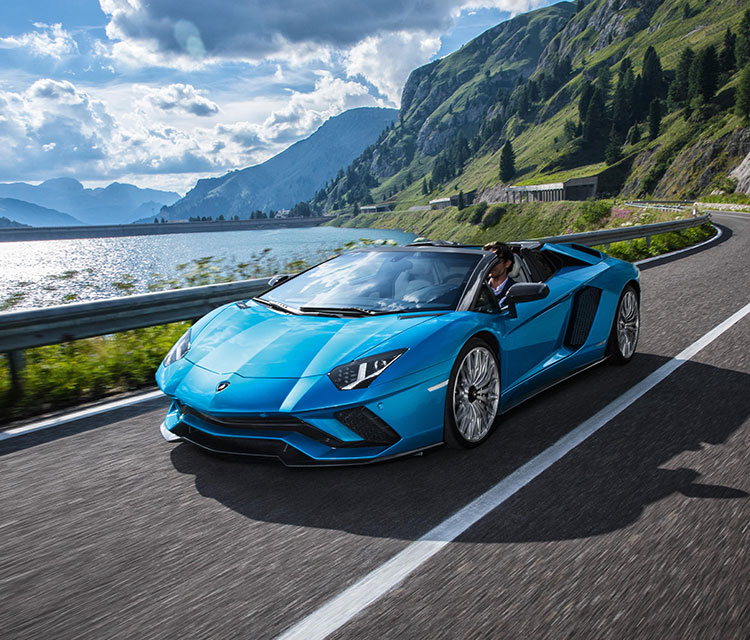 Overview
The icon that inherited the legacy of the historic S models of the Miura, Islero, Countach and Urraco returns with the Aventador S Roadster. The 740 hp V12 engine and the exclusive open-top Lamborghini design combines with the most sophisticated technology available in LDVI (Lamborghini Dinamica Veicolo Attiva, Lamborghini Active Vehicle Dynamics).
Exterior & Interior
The Aventador S Roadster reinforces its dynamism, refinement and aggressiveness by means of even sharper lines, with exhaust terminals that transform the rear end into that of a space shuttle and a front end reminiscent of the strength and elegance of a shark, ready to dominate the road. The interior reveals the soul of a super sports car, with cutting-edge technology and luxurious design. The interior uses the highest quality materials and offers an infinite variety of possibilities, including optional Carbon Skin®, an innovative carbon-fiber material available exclusively from Lamborghini. The explosive mix of performance, design and exclusivity has inspired a series of dedicated original colors and finishes.


Free Your Ego
Feel The Engine
Let the 740 CV naturally aspirated V12 engine heighten your senses, delivering the most powerful and adrenaline-charged sensations.
4-Wheel Steering System
The Aventador S Roadster offers a unique combination of the active steering system (Lamborghini Dynamic Steering) and the rear-steering system (Lamborghini Rear-wheel Steering), ensuring top-of-the-line dynamic performance.
Engine
The mid-mount 6.5 liter V-12, generating 740 CV at 8,400 rpm, offers remarkable pick-up at high engine speeds and an incredibly fast response.
4 Active Suspension
The new Aventador S Roadster features magneto-rheological front and rear shock absorbers with pushrod system, which constantly modify the behaviour of the suspensions according to the road conditions and the driving mode selected.