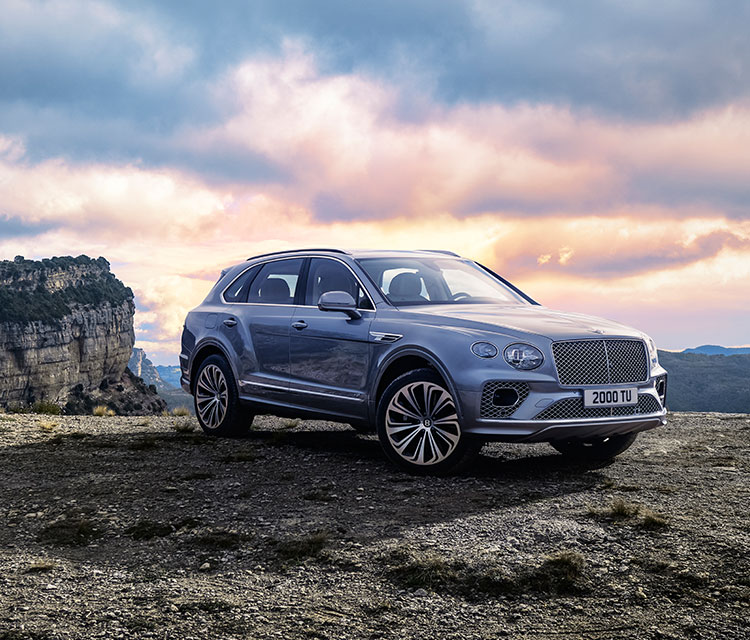 A Radically Evolved Design
The new Bentayga has been breathtakingly reimagined to inspire exploration in its purest form. It seamlessly fuses a commanding new design with empowering performance and a suite of innovative technologies to create a luxury SUV that excels in any environment – accompanied by a powerful and dynamic driving experience. Bentayga's exceptional handling and outstanding ride comfort lets you experience every environment in world-class refinement.
The journeys we make are as unique as the ambitions that drive us. Athlete and entrepreneur Sasha DiGiulian is on a lifelong pursuit of her extraordinary, a journey that refuses to be defined by limits. Follow her story with the new Bentayga below.
The new Bentayga stunningly embraces Bentley's modern design language. From a bold, new exterior, to an exquisitely enhanced cabin that highlights Bentley's revered craftsmanship, the new Bentayga makes a clear statement of intent: this is a true luxury SUV designed to inspire extraordinary journeys.
Dramatic Style
The rear design of the new Bentayga is dramatically different. New tail lamps include a unique 3D jewelled appearance and are completely contained within a wider, cleaner tailgate, while oval split exhaust tailpipes, set within the new rear bumper, complement the design of the lamps and allude to the immense reserves of power at the driver's disposal. The interior of the new Bentayga is a thoughtfully crafted environment in which to enjoy any journey, with painstaking attention to detail elevating it to truly luxurious levels.
A state-of-the-art, high-resolution 10.9" touchscreen has been beautifully integrated into the centre of the cockpit. Together with the new digital driver's information panel, the result is a cutting-edge feel throughout the cabin – perfectly blending technology and exquisitely crafted materials. A new steering wheel, door and seat design further enhance the modern feel while practical details such as improved stowage have not been overlooked. In the optional 4-seat configuration, improved rear cabin space provides a cossetting environment in which to travel, for both work and leisure.
The Blackline Specification dramatically changes the character of the car. All the exterior brightware – with the exception of the V8 model badge and the Bentley wings – becomes black, giving an intense, purposeful look. Alternatively, the Black Specification takes this a step further: in addition to the black trim, a new front bumper includes a carbon fibre blade, while carbon fibre sills, a carbon fibre rear spoiler, black 22" 5-spoke wheels and black exhaust tailpipes complete a dramatic look.


Model Overview
Effortless Performance
The new Bentayga provides a truly exhilarating experience. The new Bentayga V8 offers a dynamic drive that alters all pre-conceptions of how an SUV should perform, reaching 0 to 60 mph in just 4.4 seconds (0 to 100 km/h in 4.5 seconds) before effortlessly powering on to a top speed of 180 mph (290 km/h).
With Dynamic Drive, Bentayga's road handling is outstanding, making for a truly phenomenal drive which must be experienced in person to be truly appreciated.
Dynamic Ride
Bentley Dynamic Ride is the electric, active roll control system that was an industry-first when first introduced on Bentayga. Now applied to the new Bentayga, it allows the combination of exceptional ride comfort and exhilarating handling. The electric motors on the front and rear axles provide instant, variable resistance as required, resulting in minimised body roll when driving through sweeping bends.
Technology
The new Bentayga harnesses the very latest in cutting-edge technology to inspire confidence and a sense of security on every drive, whatever the journey demands – whether negotiating an unfamiliar city in heavy traffic, grand touring across continents or traversing an off-road trail.
A Responsive V8 Engine
With two twin-scroll turbochargers providing an immediate response to the driver's demands, the advanced V8 engine has the typical Bentley characteristics of phenomenal torque at low engine speeds and ample reserves of power. The torque reaches a maximum of 770 Nm at an engine speed of under 2000 rpm, propelling the new Bentayga V8 on to a top speed of 180 mph (290 km/h).
Advanced &Intuitive
The All-Terrain Specification adds four additional drive modes, called responsive off-road settings, to the four standard on-road drive modes. These cover virtually every terrain on which the new Bentayga V8 is likely to be driven: Snow and Wet Grass, Dirt and Gravel, Mud and Trail, and Sand. The driver simply selects the most appropriate mode for the terrain and, automatically, all relevant vehicle systems are optimised. If applicable, specific off-road systems – such as Hill Descent Control – are also activated, working together to provide you with absolute control and confidence.
Safe, Smart & Convenient
The new Bentayga features the latest My Bentley Connected Services, with an embedded SIM that makes access to the in-car features much simpler. In addition to new services, including online radio, online music services and over-the-air map updates, the connection to the outside world enhances a number of infotainment features. For example, access to intelligent online databases improves natural speech recognition and ensures the Traffic Sign Recognition tool reflects live, changing road conditions.