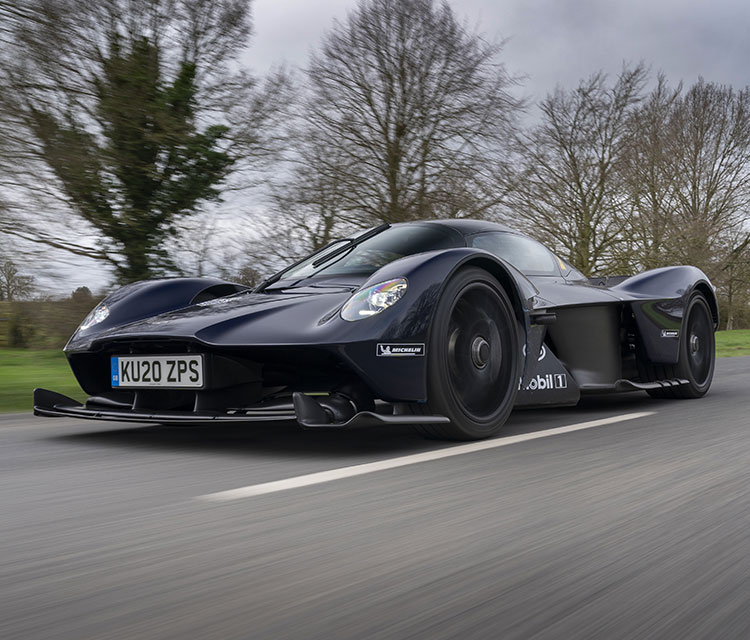 Otherworldly Performance
An incredibly special car with an equally remarkable name. One that immediately evokes connotations of power and honor, of being chosen by the Gods. Only 150 road cars will be made. Valkyrie is Aston Martin's first ever hypercar and it leaves nothing in reserve. A striking aerodynamic exterior and an open underfloor maximizes downforce and harnesses the atmosphere around Valkyrie. The all-carbon fiber bodywork carries our trademark upper grille outline, before forming into a radical body utterly honed for performance. The advanced mid-mounted powertrain takes its cue from F1™. Throttle response of the V12 is honed for a seductive sound; the hybrid tech gives an immediacy of acceleration.
Track Performance On The Streets
Valkyrie comes as close as possible to a Formula One™ car without being restricted to the track. Its technology comes directly from our involvement with Red Bull Racing Advanced Technologies and has all the hallmarks of our crafted luxury. Otherworldly performance comes from the 6.5-litre V12 engine developed with Cosworth. Starkly different from a traditional hybrid system, the V12 is torque-enhanced during take-off and uses the electric motor for a power boost.


Model Overview
One For One
All carbon-fiber. There's not one steel component in Valkyrie's structure. The iconic creation will supply a naturally-aspirated V12 specifically to a 1:1 power-to-weight ratio. All that power, exceptionally lightweight.
Gripping Theatre
Precision aerodynamics mean Valkyrie corners and brakes as aggressively as Red Bull Racing's dominant RB6 racecar, while active aspects of the suspension keep the chassis flat to the road.